Find Stored Procedure Related to Table in SQL Server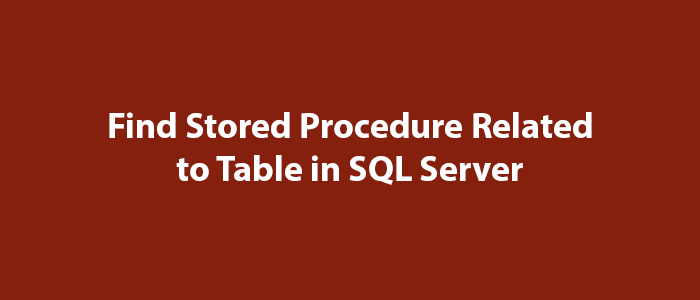 Hello to everyone,
In this article, I will talk about how to find the tables used by Stored procedures in SQL Server.
You can easily do this using the code below.
DECLARE @temptableforSP TABLE
(
    spName VARCHAR(100),
    tableName NVARCHAR(100)
);
DECLARE @SP_Name AS NVARCHAR(100);
DECLARE @SP_Cursor AS CURSOR;
SET @SP_Cursor = CURSOR FOR
SELECT [name]
FROM sys.objects
WHERE type = 'P';
OPEN @SP_Cursor;
FETCH NEXT FROM @SP_Cursor
INTO @SP_Name;
WHILE @@FETCH_STATUS = 0
BEGIN
    INSERT INTO @temptableforSP
    SELECT OBJECT_NAME(referencing_id) AS referencing_entity_name,
           referenced_entity_name
    FROM sys.sql_expression_dependencies AS sed
        INNER JOIN sys.objects AS o
            ON sed.referencing_id = o.object_id
    WHERE referencing_id = OBJECT_ID(@SP_Name);
    FETCH NEXT FROM @SP_Cursor
    INTO @SP_Name;
END;
CLOSE @SP_Cursor;
DEALLOCATE @SP_Cursor;
SELECT *
FROM @temptableforSP;
When you run the code on the relevant database, you will get a result as follows.
As you can see, we have obtained the tables as we wanted.
Good luck to everyone in business and life.